A week or two ago, Jordan gave me a heads up about a new feature on Amazon's iOS app: A "Part Finder" feature that supposedly will identify fasteners using your camera's phone. The tech press is, predictably, excited about this: It's arguably augmented reality, and AR is hot right now, and most of the people writing about AR and Amazon probably don't own a pair of calipers, metric or inch thread gages, or a thread checker set.
As one might expect, I was a bit skeptical to learn that it might take a journalist ten tries to even get the app to produce a result. So this morning I gave it a shot.
More or less at random, I opened one of my parts drawers and took out a selection of parts. I tried the following McMaster-Carr part numbers:
92196A581, 18-8 Stainless Steel Socket Head Screw 5/16"-18 Thread Size, 3/4" Long
91771A542, 18-8 Stainless Steel Phillips Flat Head Screws 1/4"-20 Thread Size, 1" Long
97517A025, Aluminum Blind Rivet with Steel Mandrel Domed Head, 1/8" Diameter, for 0.1880"-0.25" Material Thickness
97395A451, Dowel Pin 316 Stainless Steel, 1/8" Diameter, 3/4" Long
92196A194, 18-8 Stainless Steel Socket Head Screw 8-32 Thread Size, 1/2" Long
90895A029, 18-8 Stainless Steel Belleville Spring Lock Washer for 1/4" and M6 Socket Head Screws, 0.264" ID, 0.374" OD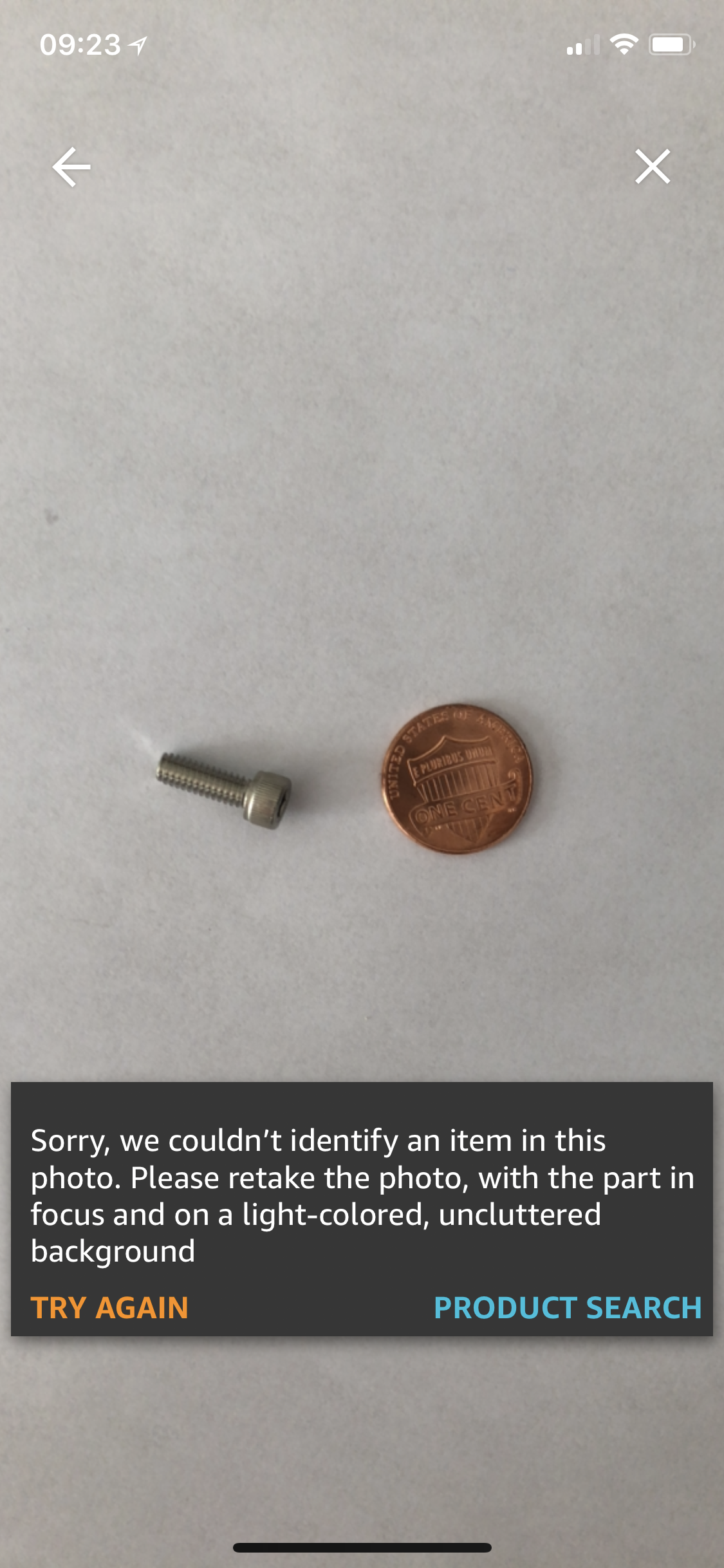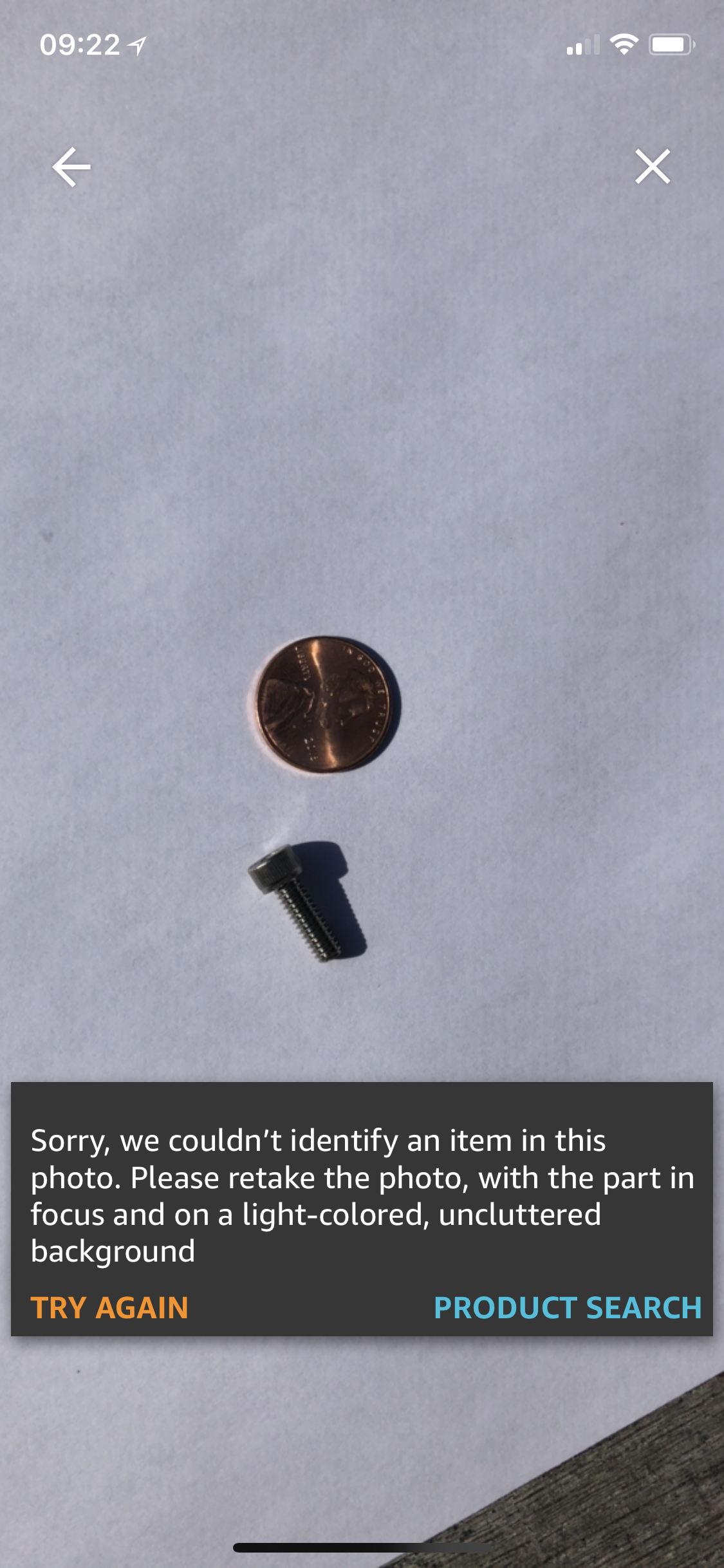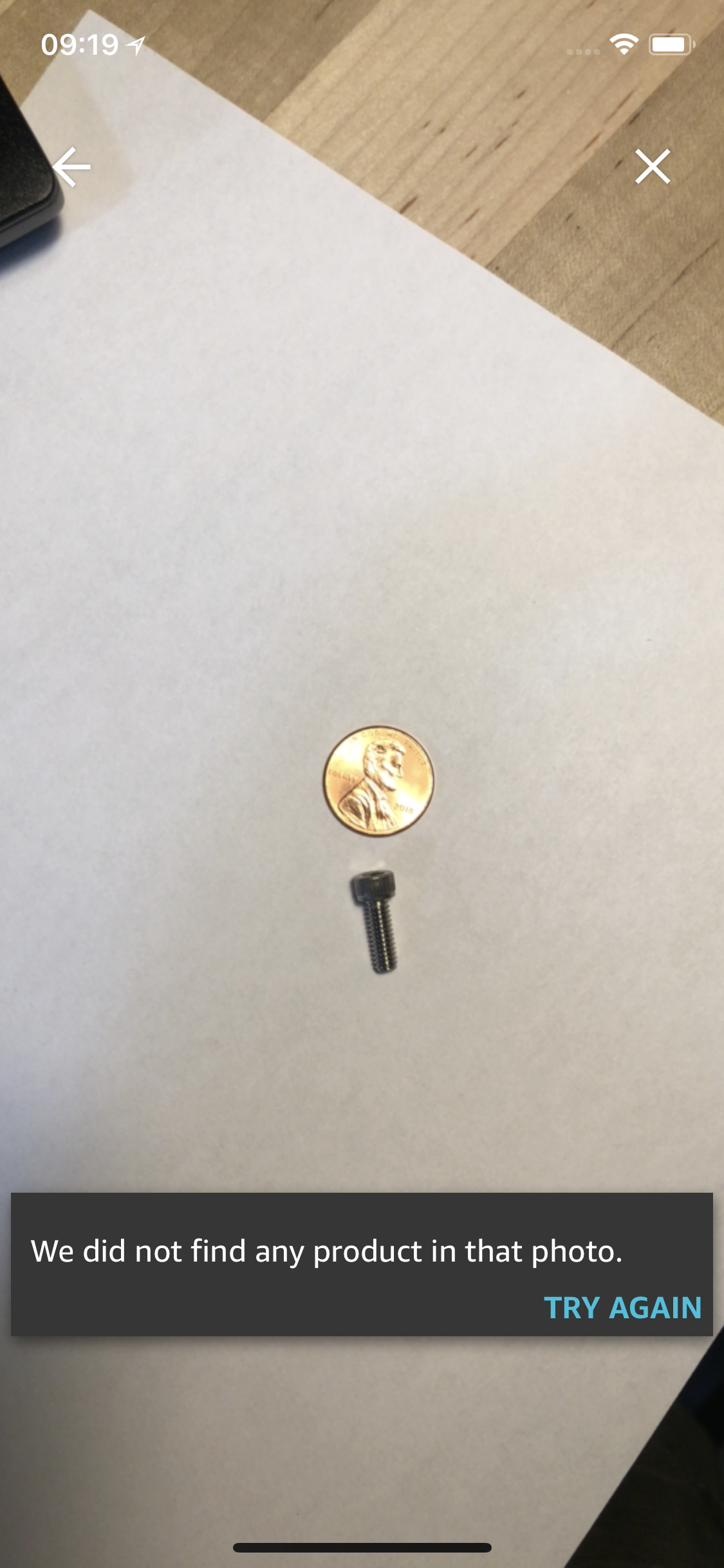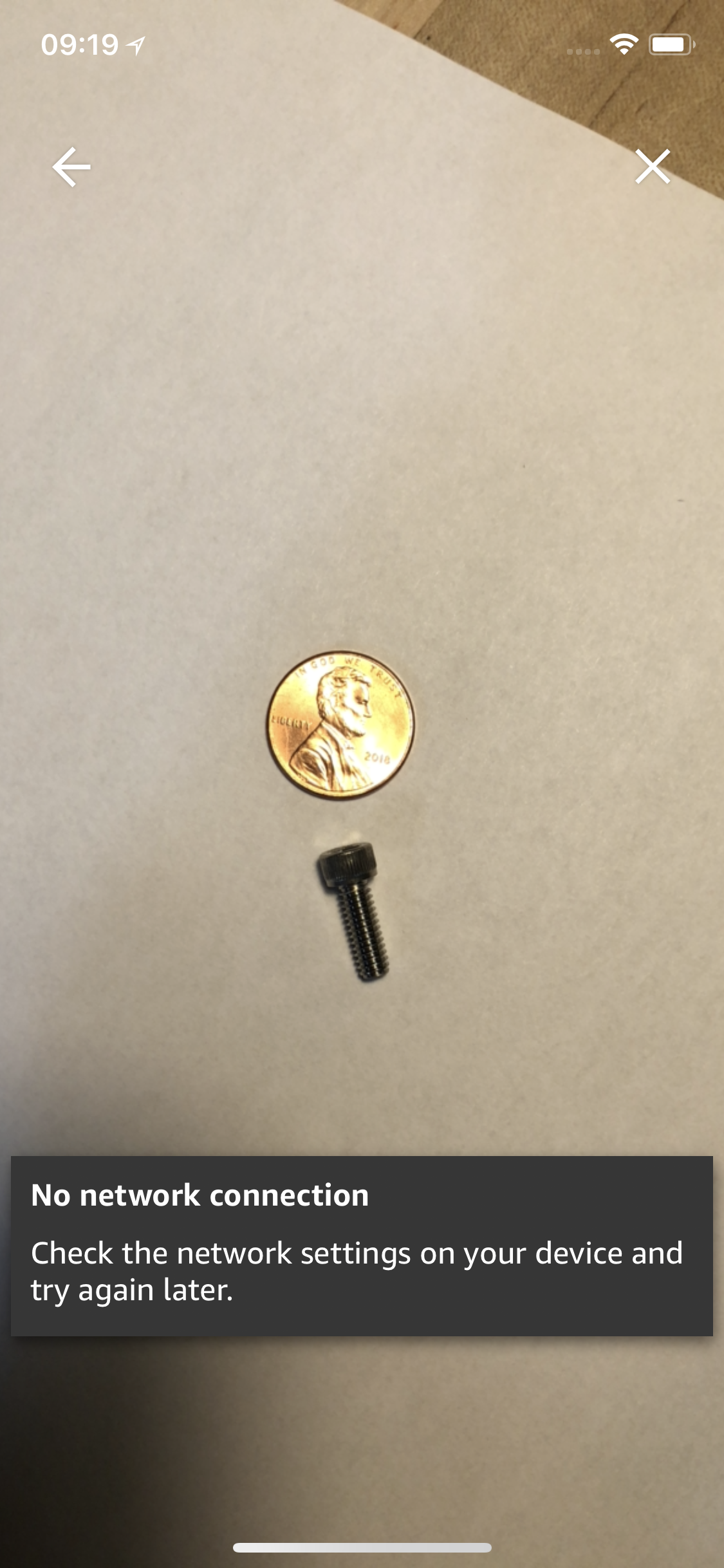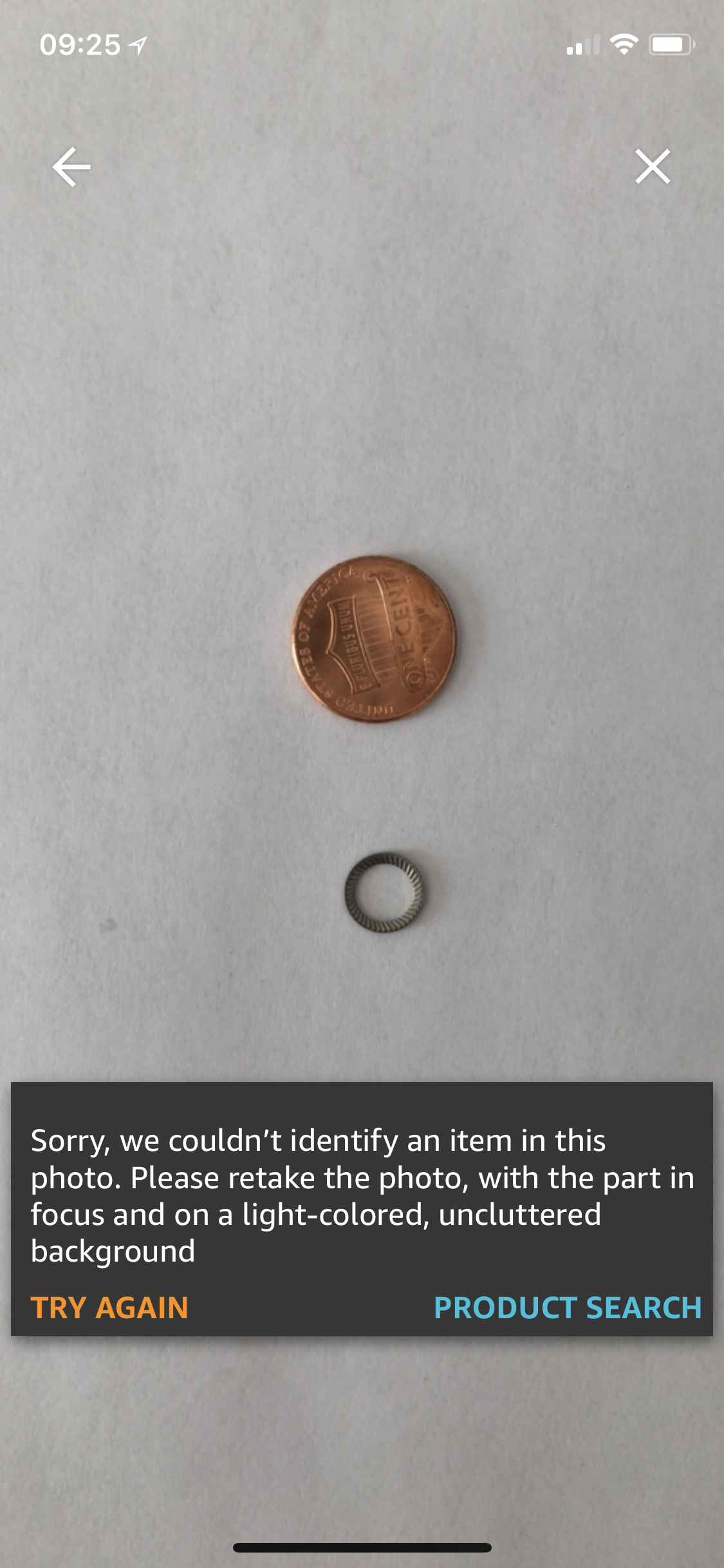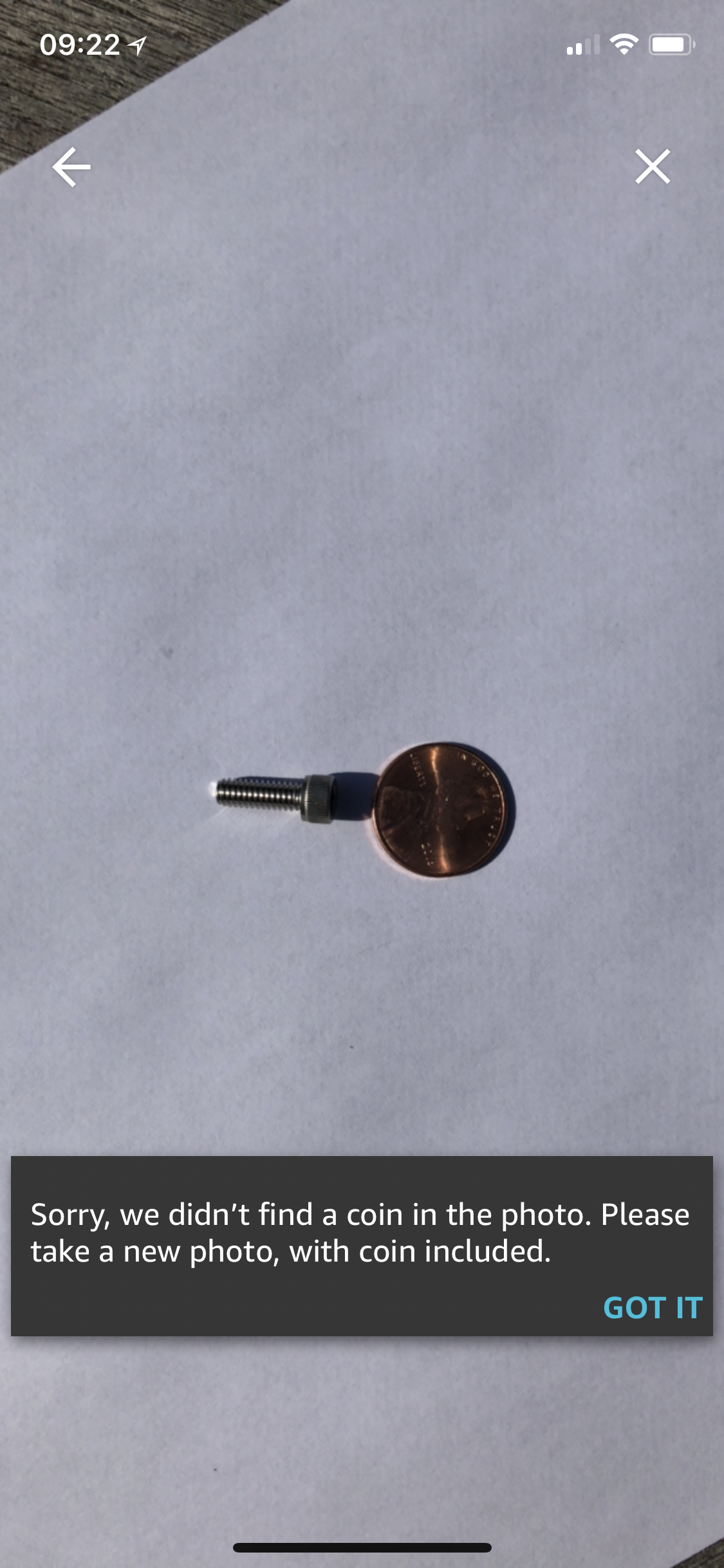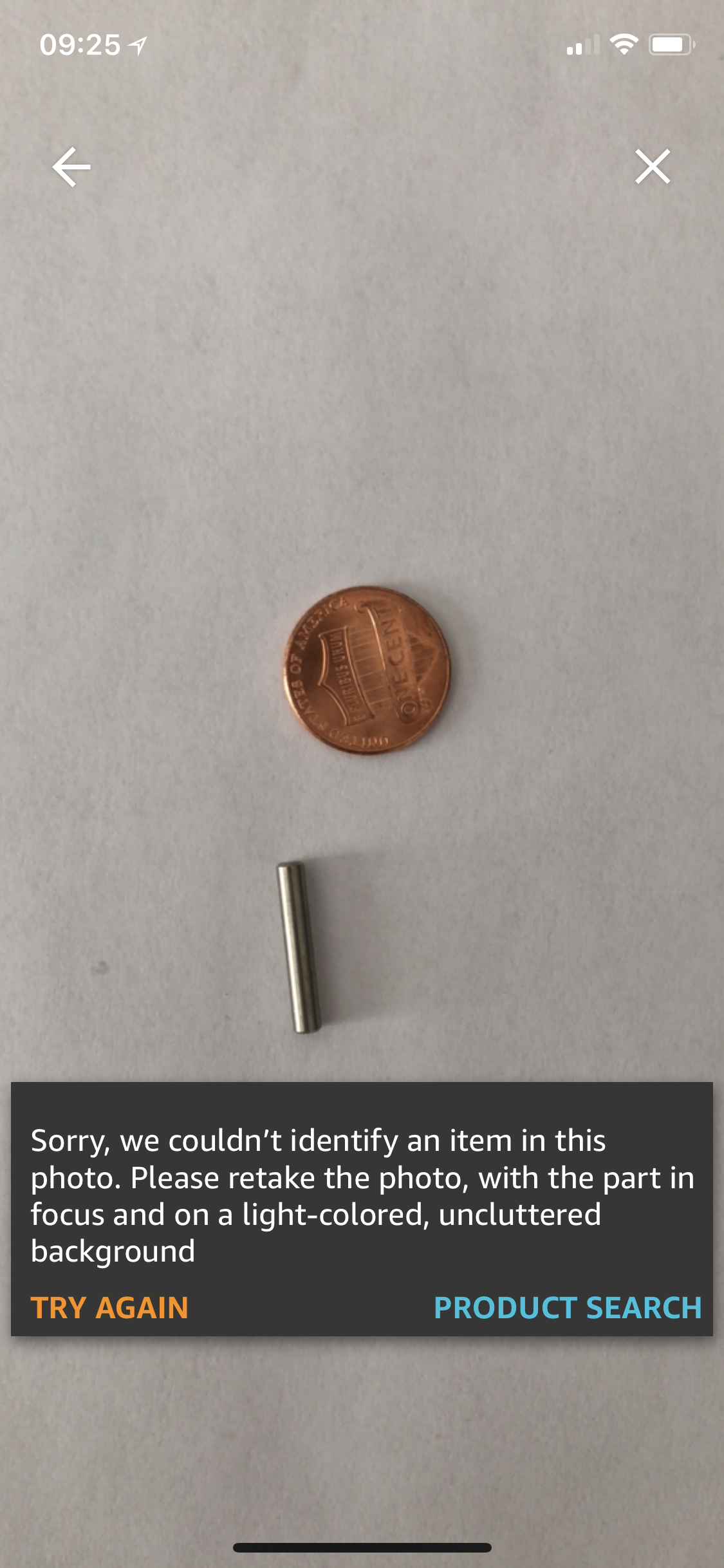 TL;DR: I do not find this feature even a little bit useful. A few notes:
Lighting
My shop is lit mostly with task lights: Clamp-on fixtures with LED bulbs. This tends to cast shadows, which the Part Finder had a *really* hard time with; it took maybe 25 tries to get a single result. Worse yet, the app shows you the instructions every single time, making the photo process itself rather painful.
I next went outside and set up in full sun. This was even worse - the high contrast shadows seemed to throw the Part Finder off even more. Lastly I went inside in an area with a decent amount of indirect light, which worked much better - but still far from perfectly.
In a few cases, the Part Finder couldn't even find the penny I was using, and once it claimed that it couldn't find the part. Some of these failures can fairly be blamed on my lighting, and some can probably be blamed on Amazon's image processing software. But the user experience sucked, and that falls squarely on Amazon's product team.
"Additional part details"
When I finally did get a match, the following message appeared:
Great, we have analyzed the photo and gathered specs. Please select the additional part details below:
The Part Finder seems to operate *only* on fastener diameter, length, and basic classification. It doesn't deal with head type or thread spec, and when I scanned the blind rivet the app prompted me to ask whether it was a "Drive Anchor, Post, Hex Bolt, or Blind Rivet."
Some of this filtering may be useful to leave in the user's hands, but the range here calls into question exactly what "specs" the Part Finder has gathered. Which leads me to:
Thread spec
The Part Finder cannot distinguish thread pitches, nor can it tell the difference between metric and inch threads.
To me, this is a need-to-have feature for any fastener identifier. I almost *never* lack a method of determining a fastener's diameter and length (I bring a caliper with me if I know I'm doing much work at all), but my thread gages mostly stay in the shop. If Amazon wants to get serious about this, they *need* to include thread identification in the Part Finder.
Conclusion
As I've written before (see this and browse here), Amazon's total lack of product hierarchy puts them at a severe disadvantage when it comes to this kind of feature. The obvious counterpoint is McMaster-Carr, whose catalog structure is perfect for establishing the appropriate scope in a part identifier feature search.
In other words: Partly, Amazon's Part Finder just sucks at identifying parts. But there are also institutional barriers in the way of Amazon ever being good at something like this, and (if AR gets better) I do still hold out hope for another player to tackle this problem.